Contact information
e-mail
J.schedler@panther-observatory.com
.
website
http://panther-observatory.com/
.


Biography
I was born in 1953 in Graz, Austria, but spent my youth in a small village in western Tyrol doing a lot
of skiing and mountaineering. Since age 15 I was passionately doing chemistry experiments and electronics in my free time.
After finishing secondary school I studied Chemistry at the Technical University in Graz.
In 1985 I co-founded the Austrian company named CTP Air Pollution Control and since have been managing the company till 2014.
After that I have been working as consultant so far.
My astronomical life started in 1997 with a simple Tasco reflector, a gift for my second son. He soon lost interest in his scope, so I tried it out and and began to explore the Moon and the Planets. Because of the need for higher quality and magnification I soon upgraded to the Meade ETX90 which made for better planetary viewing. In 1998 I joined the local astronomy club and acquired a C11 on a G11 mount. Astro-related photographic film experiments failed, but in 1999 I successfully introduced a webcam for planetary imaging and motivated other colleagues of my club to do the same. My wife Roswitha supported my new hobby fascinated from the endless variety of objects to observe and to image.

To escape the painful setup installation every night I built my own 3m observatory beside my house 25 km south of Graz during summer 2000 in a semi-rural environment (mag 5.5 sky typical). Another big step into deep sky astrophotography was the use of a digicam, starting with the Nikon CP995, later using the Canon D60 and Canon 10D. A simple CCD was used for autoguiding. My second high quality scope was a 4" f/6.5 APO refractor. Ironically most times I was guiding with the C11 and imaging with the 4" refractor. I accepted the lower cost and big chip size of the Canon D-SLR with reduced efficiency, as no reasonable priced CCD cameras were available up to 2003.To overcome the low quality of these raws I tried to compensate it by long multiple exposures and tricky Photoshop processing. By doing this I was pushing the limits of digicam imaging. At the beginning of the year 2004 SBIG released the STL-11000, the first full frame CCD camera and I got one of the first models.

During the year 2004 I consequently explored mainly nebulas using the corrected field my TMB. Also in 2004 my wife and I did our first trip to Namibia, using most of the nights to image many fascinating southern targets with the 4" TMB and the STL on my mobile setup. Intense E-mail communication with colleagues all over the world pushed my experience in image acquisition and processing.

Another dream became true in early 2005 when after 2 years wait my 16" cassegrain from P. Keller was finished and installed in my observatory. This was a big step forward and allowed for imgaging objects of various sizes in medium to high resolution.
Using the very fast f/3 option of my cassegrain, I first tended to specialise in wider field images. Later on I focused more on high resolution imaging using the STL-11000/STX-16803 with the cassegrain f/10 setup at 4 m focal lenght. From time to time I used a firewire b/w webcam typically at f/20 for planets, Moon and Sun. In November 2005 I have been invited to present a lecture at the Advanced Imaging Conference in San Jose, Californiawhere I focused on deep sky imaging with the STL-11000 and image processing techniques. It was a great experience to meet with many other famous astro-imagers face to face and enjoyed discussing with them. Also in November 2005 I aquired a TEC-140 f/7 APO refractor with field flattener to improve the resolution for my mobile setup. This setup was used intensely for astro-imaging during my 2 week's stays in Hakos/Namibia in Mai 2006 and in 2008, see results in section tips.

Since 2008 I have been working within a group to establish a remote observing site at a prime site, we finally could achieve first light end of of 2012 in our remote controlled observatory Chart32 housing a 32" cassegrain telescope at CTIO in Chile.

In 2015 I got a request from Nikon Japan for officially testing the new released Nikon D810A DSLR in Chile, see here the review and images.

I use to give lectures and presentations at astroimaging conferences and for astronomy clubs in many different countries at request.

Astrophotography publications

Magazines
Astronomie heute: Articles and images
Vatican Observatory Calendar 2006 till 2022: Images
Interstellarum: Front page, articles and images
Sky & Telescope: Front pages, articles and images
Practical Astronomer: Front page and images
Ciel & Espace: Front page, articles and images
VSD: Article and images
ULYSSE: Article and images
COELUM: Front page and images
.
Books
Digital Astrophotography (Ratledge David Ed.)
Chapter: Deep Sky Imaging with a Digital SLR

Beautiful Universe 2008: Chapter/ images
Beautiful Universe 2009: images
Beautiful Universe 2010: images
Beautiful Universe 2012: Chapter/ images
Lessons from the Masters (Editor Rob Gendler): Chapter
.
Internet
NASA APODs: 2003, 2004, 2005, 2006, 2007, 2008, 2009, 2011, 2012, 2015, 2016, 2017, 2018, 2019, 2020, 2021
Universetoday.com

Observing site
Panther Observatory at Wildon, Austria (from 2000 till 2015)
Latitude: 46° 53' 02" North
Longitude: 15° 30' 27" East
Elevation: 370 meters

New observing and imaging site
Chart32 Observatory at CTIO in Chile
32" cassegrain remotely operated since 2013
Latitude: 30° 10' 03.39" South
Longitude: 70° 48' 19.42" West
Elevation: 2150 meters

Astronomical Equipment
Telescopes (portable)
Takahashi FSQ-85 450mm FL

Used and recommended lenses
Canon EF 200 mm f/2.8 L lens
Canon EF 100mm f/2 lens
Sigma Art 50 mm f/1.4 lens
Sigma Art 14 mm f/1.8 lens
.
Mount
AP-400 GEM german equatorial mount
.
Telescope control
Boxdörfer MTS-3
.
Cameras
Canon 40D modified, Canon 6D
.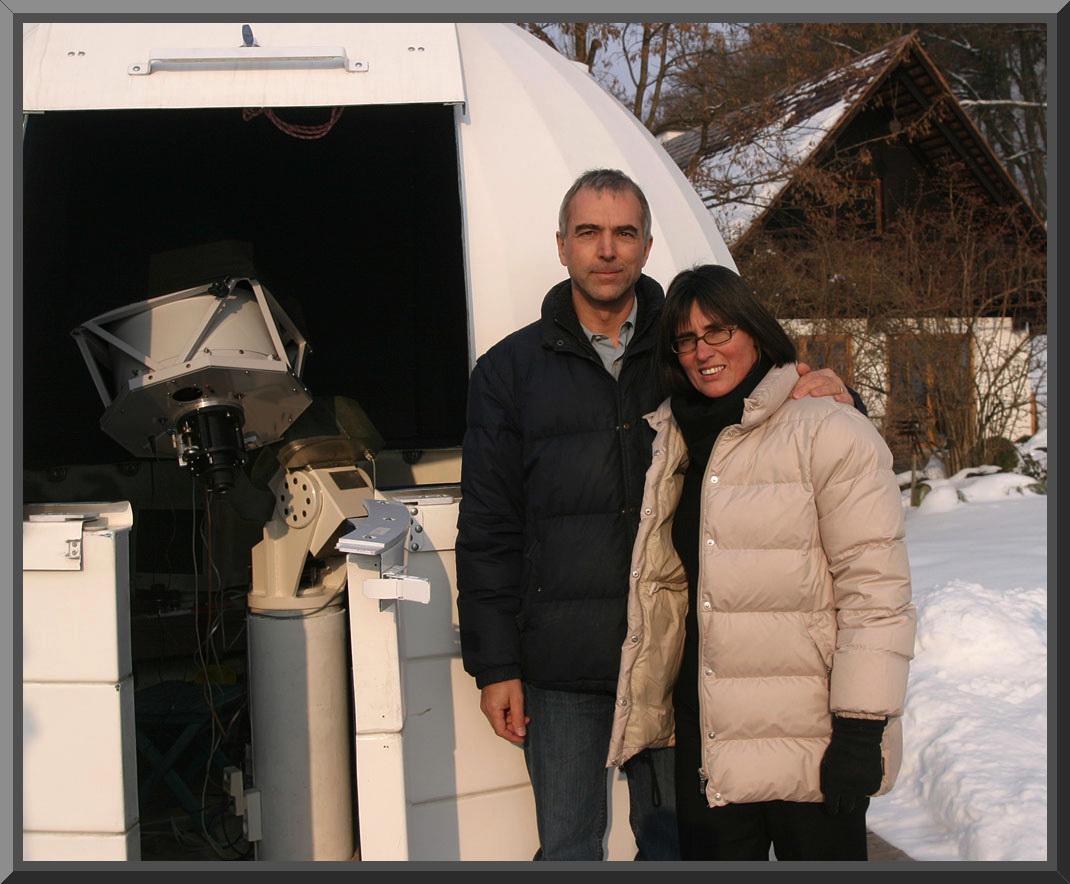 Johannes and wife Roswitha at their Panther Observatory 2010