Time lapse night sky video from the alps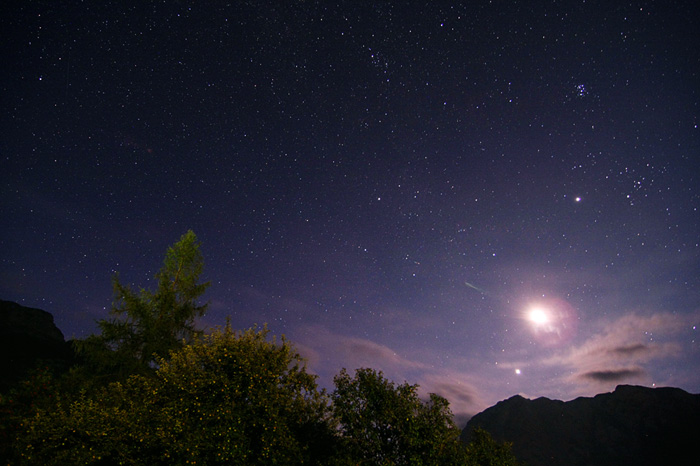 About this Image
This wide angle video starts at dusk and is showing almost a complete night (7h) to the north-east across the alpine Altaussee lake.
In the beginning the swan constellation with NGC7000 embedded in the milky way can be seen in the upper part of the field. Below the Andromeda Galaxy is visible. The shadow of the illuminated clock tower is projected into the moving clouds. Perseus followed by M45 are rising. Later Jupiter is rising with Taurus to the right, followed by the vaning Moon and the by bright Venus fading into dawn.
Polaris is the fixed star in the top left corner. Several fainter meteors are crossing at high speed from various directions.

Best quality when saved and viewed in quicktime or itunes player.

Technical Details

Optics

Tokina SD 12-24mm at 12mm and f/4

Mount
fixed tripod
Camera
Canon D40 modified with TN80 remote timer
Date
Aug 12-13, 2012
Location
Altaussee/Austria
Sky Conditions
mag 5.5 sky, temperature 14 C
Exposure
30 sec sub-exposures at ISO1600
Programs used
Canon utility
Photoshop CS5
BMPtoAVI
Handbrake