The Medusa Nebula (Abell 21)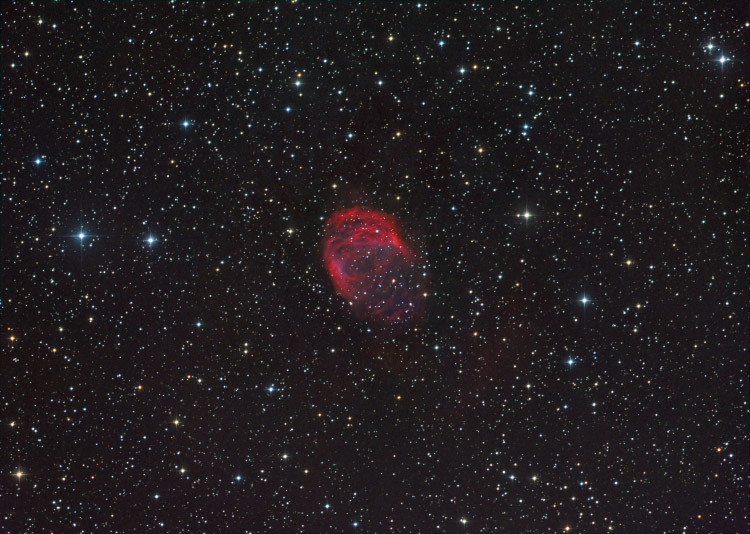 clic for a 70% size image 2029 x 1443 (727 kB)
About this Image
The faint Medusa Nebula in Gemini, designated as Abell 21 or PK 205+14.1 is a very ancient planetary nebula in the constellation of Gemini. The inner bubble shows some hints of blueish structure, indicating that the central star (the blue one in the center) is still hot and makes the gas flouresce.
The distance to the Nebulae is estimated at 790 light years. North is right.

Below you find a 50/100% crop on the center of the above image.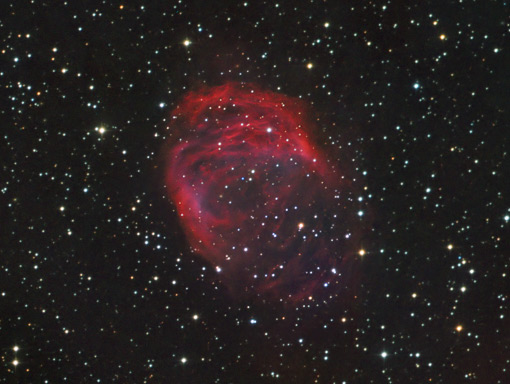 Technical Details

Optics

410mm cassegrain in corrected prime focus at f/3

Mount
MK-100 GEM
Camera
SBIG STL-11000M at -30C, internal filter wheel
Filters
Astronomik H-alpha (15 nm), green, blue
Date
Mar 06, 2006.
Location
Wildon/Austria
Sky Conditions
mag 5 sky, Moon up, temperature -3 C,
Exposure
Ha:G:B = 120:40:60 minutes (30-minute sub-exposures Ha, 10 min for G, B), all 1x1.
Processing
Image aquisition, calibration and color combine in Maxim DL 4.11; curves, color balancing, light unsharp mask in Photoshop; Noise reduction by Neatimage