Dark Nebula and Open Cluster (B 86, NGC 6520)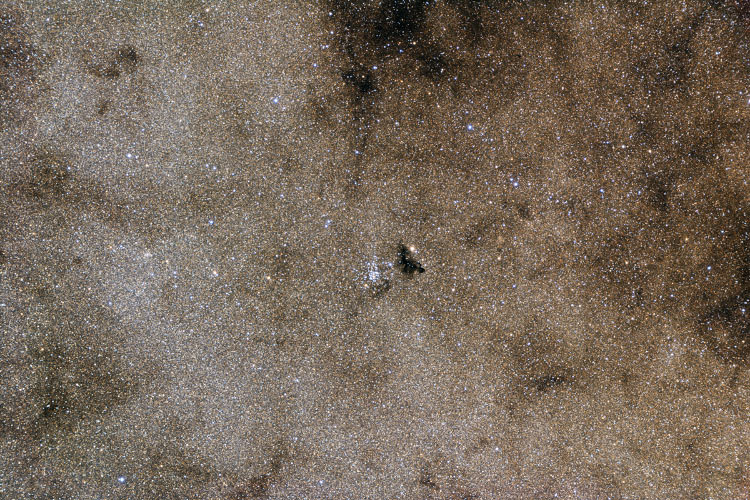 About this Image
In this extremely dense star field towards the center of our galaxy, the open cluster NGC6520 and the dark Nebula Barnard 86 are resembling a pair with striking contrast. On the left is a young star cluster, NGC 6520. The hot, blue stars of the cluster are relatively young.
To the right is Barnard 86, a dark nebula, also known as Ink Spot Nebula. This cloud of relatively dense gas and dust, apparently a remnant of the formation of NGC 6520, blocks the light from the star cloud beyond. The cluster is situated in the constellation of Sagittarius at a distance of 5300 light years.
North is up.

Below you see the center crop of the above image in 65/120% size.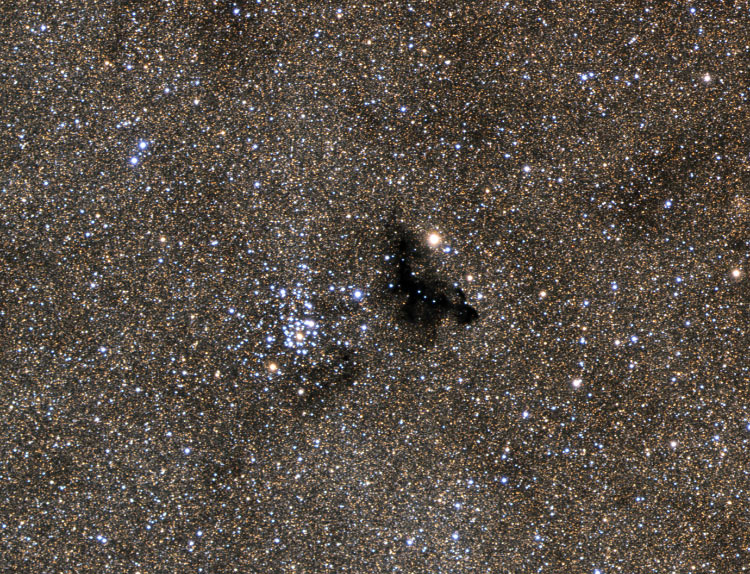 Technical Details

Optics

TEC-140 APO refractor with TEC flattener at f/7

Mount
AP-400 GEM
Camera
SBIG STL-11000M at -20C, internal filter wheel
Filters
Astronomik LRGB
Date
May 29, 2006.
Location
Hakos/Namibia
Sky Conditions
mag 7, high transparency, temperature 15 C,
Exposure
L:R:G:B = 20:30:30:30 minutes (10-minute sub-exposures),
all 1x1.
Processing
Image aquisition, calibration and color synthesis in Maxim DL 4.11;
Photoshop: curves, color balance;