Cats Paw Nebula (NGC 6334, NGC 6357)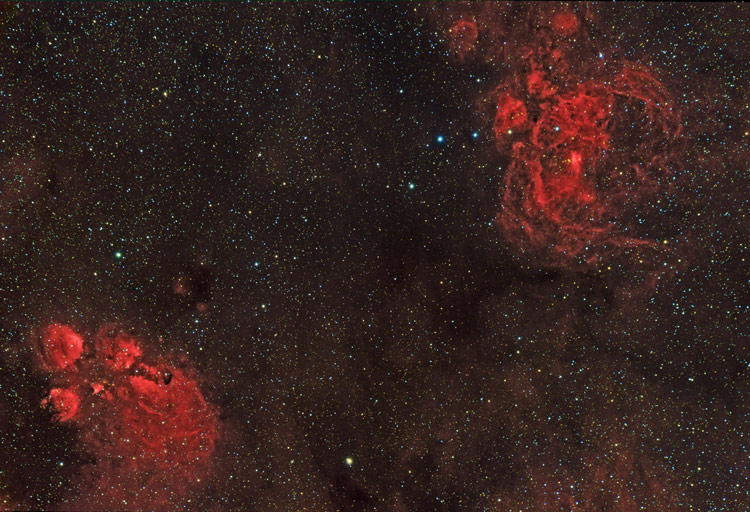 clic here for 50% size 1950 x 1330 (816 kB)
About this Image
The Cats Paw Nebula NGC 6334 and its companion NGC 6357 in the tail of Scorpius are complex H-alpha emission areas. The distance to this nebulae is approx. 5500 light years. It is the nursery for many hot young stars, that are still obscured by dust clouds.
North is right.

Below you find a crop on NGC 6334 in 40/80%.

At bottom you find a crop on NGC 6357 in 35/70% size.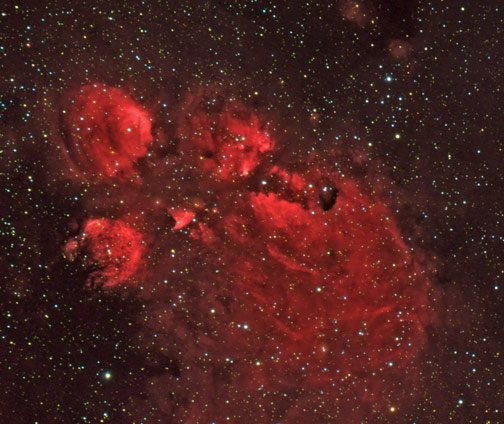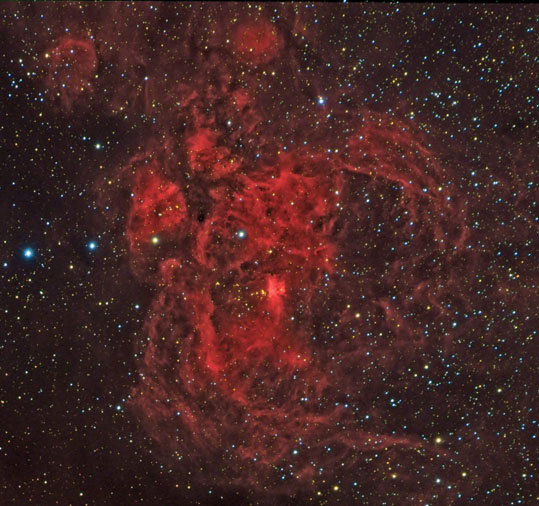 Technical Details

Optics

105mm TMB refractor with flattener at f/6.5

Mount
AP-400 GEM
Camera
SBIG STL-11000M at -20C, internal filter wheel
Filters
Astronomik H-alpha (15 nm) + RGB
Date
Aug 09, 2004.
Location
Hakos/Namibia
Sky Conditions
mag 6.5, high transparency, temperature 14 C,
Exposure
Ha = 120 minutes (10-minute sub-exposures),
RGB= 15:15:15 min (5-minute sub-exposures)
all 1x1.
Processing
Image aquisition in Maxim DL 4.0; Image calibration, aligning, mean stacking, DDP and color synthesis in ImagesPlus;
Photoshop: H-alpha blended to red and L channel; cropped, Noise reduction by Neatimage;