The Coal Sack in the Southern Cross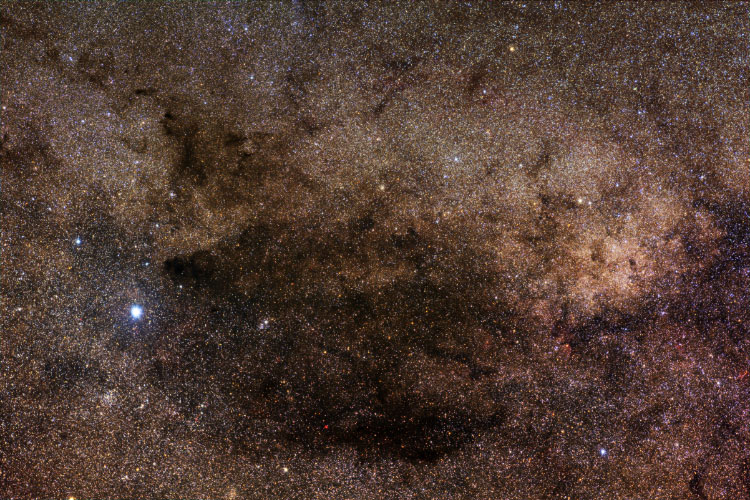 clic here for 50% size 2004 x 1336 (1300 kB)
About this Image
The Coalsack is the most prominent and conspicuous dark nebula in the skies, well visible to the naked eye as big dark patch in the Milky Way, This object is easily seen in the southern part of the Southern Cross and covers and obscures about 26 square degrees of the sky. It overlaps the borders of Crux so that parts of it are in the constellations Musca and Centaurus.

At this image scale however it shows a lot of details and structures. The bright star to the left is alpha-Crucis. Interstellar dust is absorbing the light of the bright starclouds behind. Obscuring dust is reddening the stars in major parts of the image.
North is down (image must be turned upside down to get naked eye view).

Technical Details

Optics

Canon EF 200mm f/2.8 L lens at f/3.5

Mount
AP-400 GEM
Camera
SBIG STL-11000M at -20C, internal filter wheel
Filters
Astronomik RGB
Date
May 31, 2006.
Location
Hakos/Namibia
Sky Conditions
mag 7 sky, high transparency, temperature 14 C,
Exposure
RGB= 15:10:15 min (5-minute sub-exposures)
all 1x1.
Processing
Image aquisition in Maxim DL 4.5; preprocessing in CCDStack; straight RGB combine;
Photoshop: curves, color balance;