Clic here for 60% size 3110x2405 (1900 kB)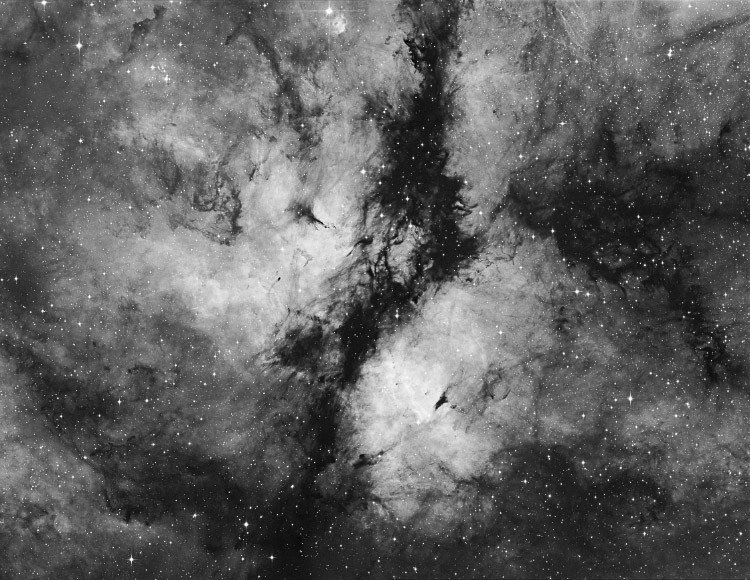 Clic here for the H-alpha version in 36% size 1866x1443 (755 kB)
Clic here for the H-alpha version in 60% size 3110x2405 (2100 kB)
This 2-part mosaic in mapped color shows a part of the extended nebulosity, designed as IC 1318 east of the mag 2 star gamma-Cygni (Sadr) - at the top of the image.
Ionized Hydrogen assigned to green, Oxygen-III assigned to blue and Sulphur-II assigned to red are forming a colorful and chaotic area. The bisected nebula region in the center of this image is named the Butterfly Nebula because of it's two-winged appearance.

The open star cluster NGC 6910 (upper left side) is situated half a degree north of Gamma-Cygni. This group consists of 66 stars of 10th magnitude and fainter.

Find a close-up of the central swirl area in H-alpha light here.
Find a wider view of the whole area in H-RGB light here.

North is to the left.
Technical Details

Optics

16" cassegrain in corrected prime focus at f/3

Mount
MK-100 GEM
Camera
SBIG STL-11000M at -25C, internal filter wheel
Filters
Baader 7-8 nm Ha, O-III, S-II
Date
Sep 30, 2007 - Oct 13, 2007.
Location
Wildon/Austria
Sky Conditions
mag 5.5 sky, temperature 5 C, seeing 2.5-3"
Exposure
S-II:Ha:O-III = 180:120:120 minutes per frame (30 minute sub-exposures), all 1x1.
Processing
Image aquisition in Maxim DL 4.65, image preprocessing in CCDStack; Fitsliberator; Hubble palette combine; curves, final tweaking, color balancing in Photoshop;