IC1805 (Heart Nebula)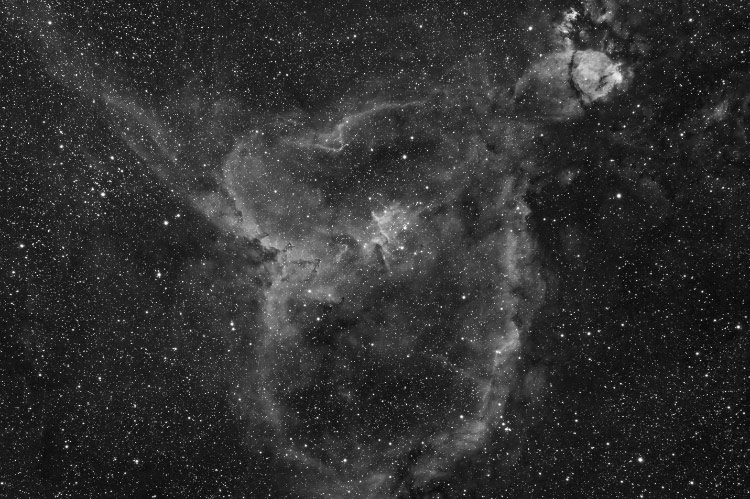 Clic here for 60% size 2385x1588 (1032 kB)
About this Image
The Heart nebula in Cassiopeia is an extended complex Ha region. The distance to this area is estimated at approx. 2500 light years.
The nebula, which is close to IC 1848, is excited by the open star cluster near the center, young, hot stars. It interferes with dark dusty material, eroded from the radiation of the stars.
The top right bright part is named NGC 896.
North is up.
Below you see the center of the nebula in 50/100% size.
At bottom a crop on NGC 896 in 50/100% size.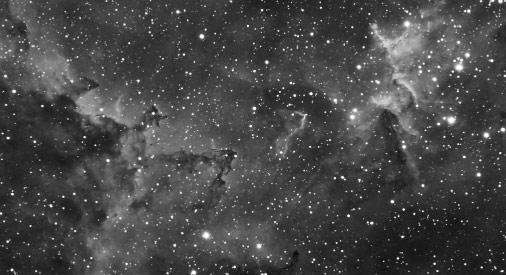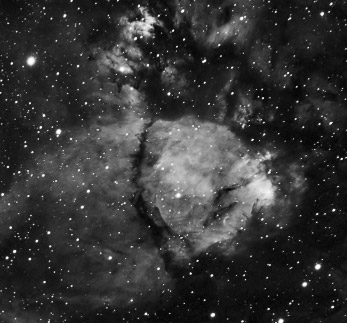 Technical Details

Optics

105mm TMB refractor with flattener at f/6.5

Mount
MK-100 GEM
Camera
SBIG STL-11000M at -20C, internal filter wheel
Filters
Astronomik H-alpha (15 nm)
Date
H-alpha: May 11, 2004.
RGB: Aug 29, 2004
Location
Wildon/Austria
Sky Conditions
mag 4.5, full moon, temperature 12-15 C,
Exposure
Ha = 250 minutes (15-minute sub-exposures),
all 1x1.
Processing
Image aquisition in Maxim DL 4.0; Image calibration, aligning, mean stacking, DDP and color synthesis in ImagesPlus; Noise reduction by Neatimage;
Photoshop: curves and final processing; size 20/36/60%;