The Pinwheel Galaxy M 101 is revealed as one of the most prominent face on spirals in the sky. While quite symmetric visually and in very short exposures which show only the central region, it is of remarkable unsymmetry, its core being considerably displaced from the center of the disk. Halton Arp has included M101 as No. 26 in his Catalogue of Peculiar Galaxies as a "Spiral with One Heavy Arm".
It lies at 24 million light years distance in the constellation of Ursa Major.

Checkout a close-up at F/10: here.

A closeup at M101 in 40/80% size is shown below.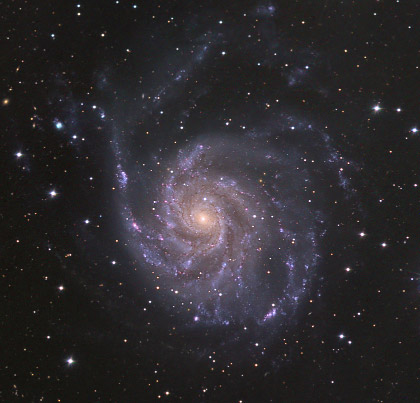 M101 is interacting with its brightest companion, the distorted galaxy NGC 5474 (type Sc, 10.85 mag vis) shown below in detail in 80% size.