Trifid Nebula (M 20)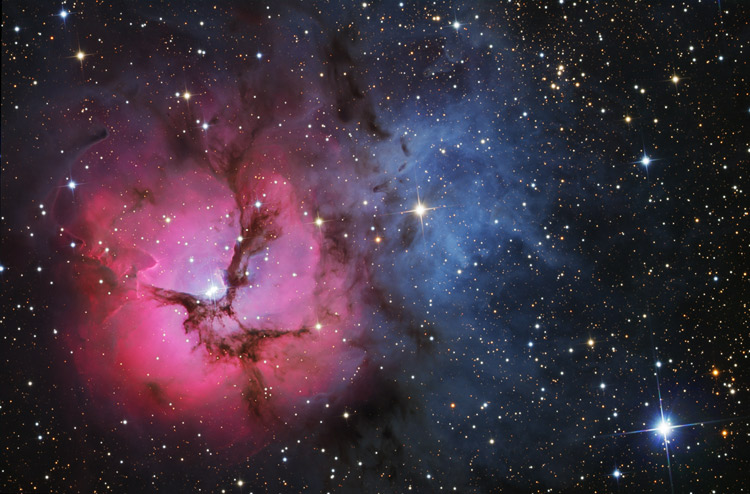 clic here for 48% size 1924 x 1264 (700 kB)
About this Image
The famous bicolored nebula M20 situated in Sagittarius is famous for its three-lobed appearance. The dark dust bands that cause this effct are cataloged as Barnard 85. The red emission nebula with its young star cluster near its center is surrounded by a blue reflection nebula which is particularly conspicuous to the northern end.
The distance to this object is estimated at 2000 light years. North is to the right.

Below you see the high resolved center crop of the above image in 40/80 % size showing the multiple stars in the center, energizing this nebula and the obscuring dust.
Compare a Hubble shot of the area and some background information here.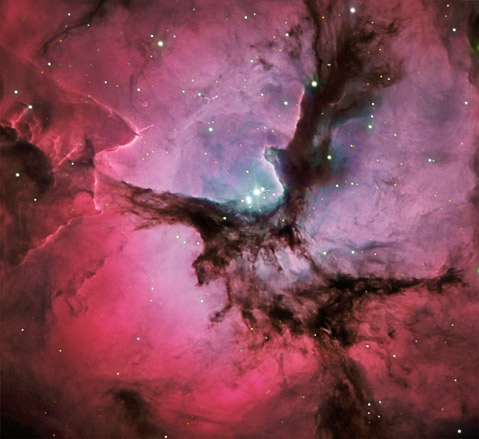 Technical Details

Optics

20 " Keller cassegrain in corrected secondary focus at f/9

Mount
Liebscher GEM
Camera
SBIG STL-11000M at -20C, 8-pos STL filter wheel
Filters
Baader RGB, H-alpha, (7 nm)
Date
May 04, 2008.
Location
IAS/Hakos Namibia
Sky Conditions
dark skies, raw FWHM 1.3-1.6" temperature 10 C,
Exposure
R:G:B = 30:30:40 minutes (10-minute sub-exposures); synthetic luminance used;
Ha: 30 min single exposure for center crop;
all 1x1.
Programs used
Maxim DL 4.5;
CCDStack
Photoshop CS3