Lagoon and Co (M8, M20, IC4685)
clic here for 50% size 1907 x 1330 (1083 kB)
About this Image
The bright Lagoon Nebula (M8) in Sagittarius, ionisised gas with embedded dark globules, the gas is emitting mainly at the red H-alpha line, accompanied by the Nebula M20 with its beautiful combination of blue reflection and red emission nebulosity. The distance to these nebulae is approx. 5200 light years.
A fascinating complex of emission and reflection nebulosity which lies just 1.5 degrees to the ENE of the Lagoon Nebula: objects named IC4685, NGC6530, NGC6559, NGC6546, IC1275, IC1274, IC4678, IC4684, IC4685.
North is up.

Below you find the following closeups:
Center of M8 in 50/100% size
M20 in 50/100% size
Group IC4685, IC1274, NGC6559, in 40/80% size.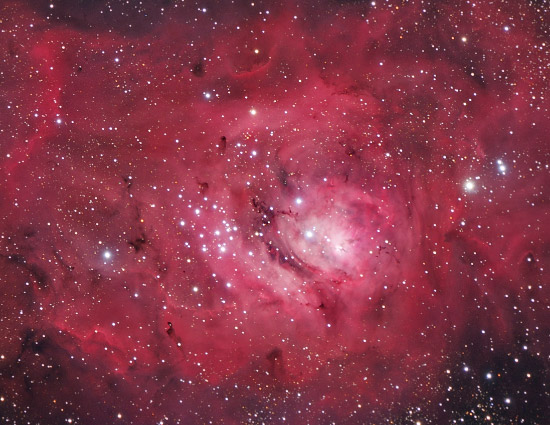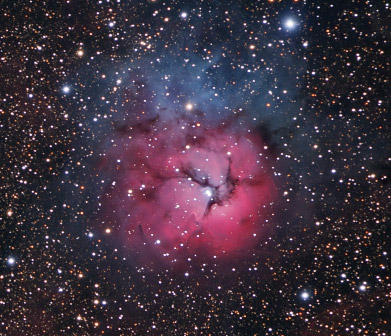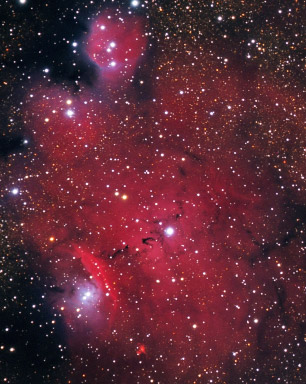 Technical Details

Optics

105mm TMB refractor with flattener at f/6.5

Mount
AP-400 GEM
Camera
SBIG STL-11000M at -20C, internal filter wheel
Filters
Astronomik H-alpha (15 nm) + LRGB
Date
Aug 08/12, 2004.
Location
Hakos/Namibia
Sky Conditions
mag 6.5, high transparency, temperature 14 C,
Exposure
Ha = 120 minutes (10-minute sub-exposures),
LRGB= 10:15:25:25 min (5-minute sub-exposures)
all 1x1.
Processing
Image aquisition in Maxim DL 4.0; Image calibration, aligning, mean stacking, DDP and color synthesis in ImagesPlus;
Photoshop: H-alpha blended to red (85%) and as L channel (15%); cropped, Noise reduction by Neatimage;