Cone and Fox Fur area (NGC 2264)
clic here for 50% size 1963 x 1315 (738 kB)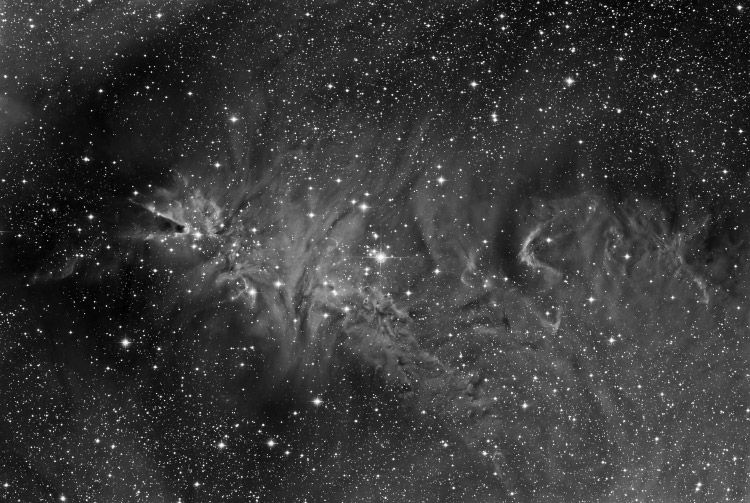 About this Image
This wide field image of the Christmas Tree Cluster, also known as NGC 2264, is an open cluster of stars embedded in a diffuse nebula. It is located in the constellation of Monoceros, the Unicorn.

The image also contains two famous distinct nebulae. At the left side of the image is the Cone Nebula, which gets its unique name from the large cone shaped dark nebula, the bright tip of the Cone is lit up by, and blocks the light from a nearby hot blue star. Just below of the center is the deeply structured Fox Fur Nebula. Both reflection (blue) and emission nebulosity (red) are showing complex structures formed by stellar wind and condensation of dust. The fine bows are Herbig Haro objects.
The bright star just close to the center of the image is known as S-Monoceros. The distance to these structures is approx. 2600 light years.
North is right.

Below you see a crop on the center of the above image in 25/35/70% size and in monochrome H-alpha light.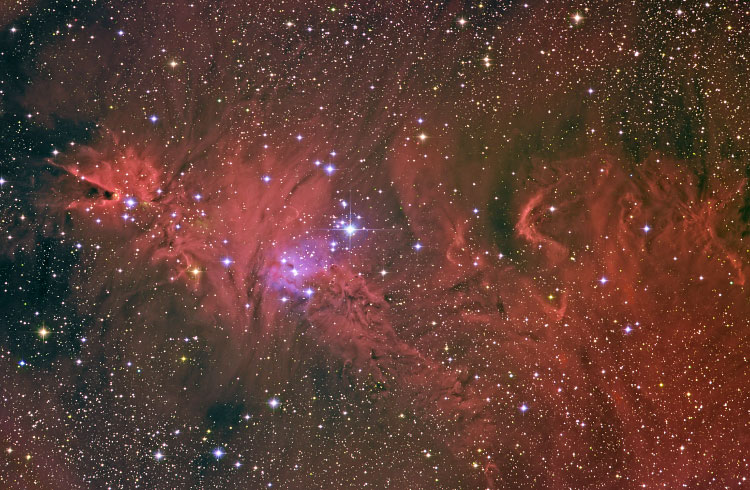 clic here for 70% size 2300 x 1504 (770 kB)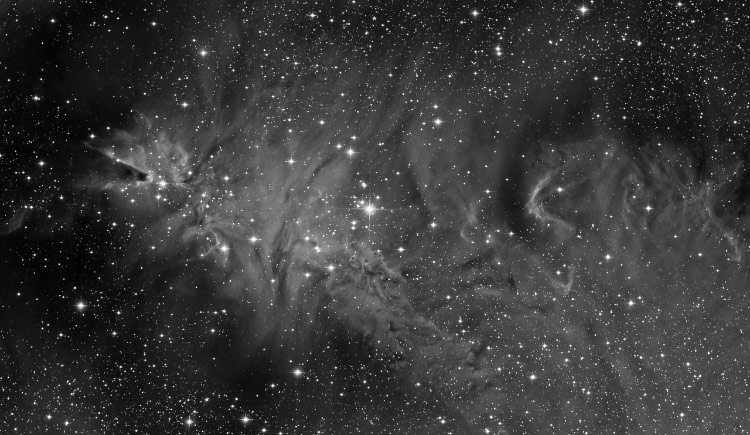 clic here for 70% size 2443 x 1417 (851 kB)

Technical Details

Optics

16" cassegrain in corrected primary focus at f/3

Mount
MK-100 GEM
Camera
SBIG STL-11000M at -30C, internal filter wheel
Filters
Astronomik Ha
Date
Feb 13 + 28, 2005.
Location
Wildon/Austria
Sky Conditions
mag 5 sky, temperature -10 C, Moon up
Exposure
Ha = 150 minutes (15 minute sub-exposures),
O-III = 60 min (10 minute subs)
blue = 15 min (5 min subs).(
Processing
Image aquisition and color combine in Maxim, image calibration, aligning, DDP in ImagesPlus;
H-alpha 50% as L and 100% as red channel, O-III assigned to green, blue as blue channel. curves, unsharp mask in Photoshop; Noise reduction by Neatimage for dark areas;
north is right;