Treasures in Sagittarius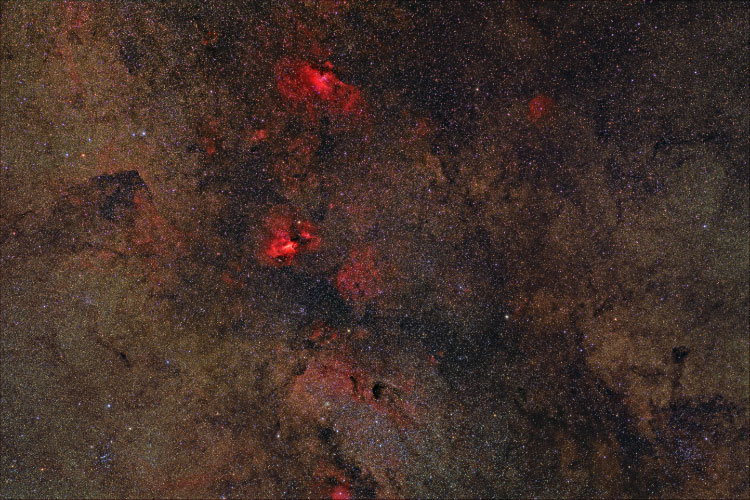 clic here for 60% size 2405 x 1603 (2400 kB)
About this Image
The constellation Sagittarius is situated with our central milky way and filled with dense star clouds, dust and nebulae. The dominating Nebulae are M 16 (above center) and M17 (center) glowing in red H-alpha emission. To the right of M 16 there is the faint red nebula SH2-40.
To the right of M17 there is the emission nebula IC 4701. At center bottom there is IC 4700.
In the lower part of the image are the open clusters M 23, M 24 and M 25 (from right to left).
North is up.

Technical Details

Optics

Canon EF 200mm f/2.8 L lens at f/3.5

Mount
AP-400 GEM
Camera
SBIG STL-11000M at -20C, internal filter wheel
Filters
Astronomik Ha, G, B
Date
May 28, 2006.
Location
Hakos/Namibia
Sky Conditions
mag 7 sky, high transparency, temperature 14 C,
Exposure
HaGB= 90:15:15 min (5-minute sub-exposures for GB, 10 min for H-alpha)
all 1x1.
Processing
Image aquisition and calibration in Maxim DL 4.65; preprocessing in CCDStack;
Photoshop: curves, color balance;