Sun with AR0652 (July 23, 2004)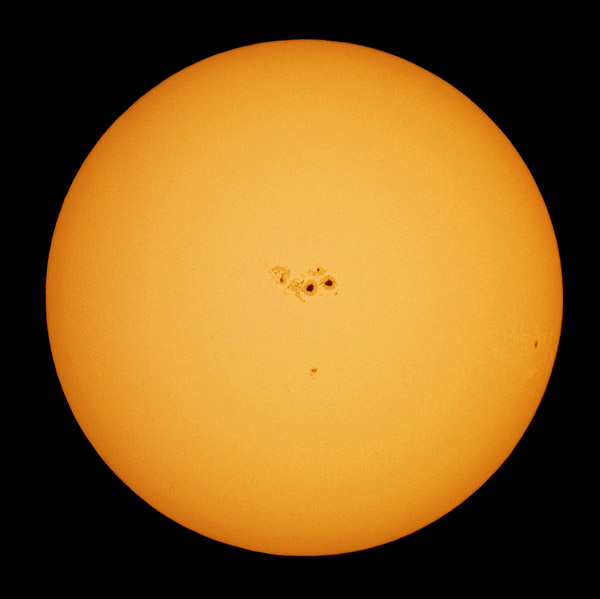 clic here for a 70% size image (279 kB)
About this Image
A huge and very active group (AR0652) shows up in the center of the sun.
During sunset it can be spotted with just sunglasses. Some m-class flares are causing high geomagnetic activity.

The complex structure of the group is displayed below in a webcam image. Local seeing cells are producing different grades of sharpness in granulation and filaments.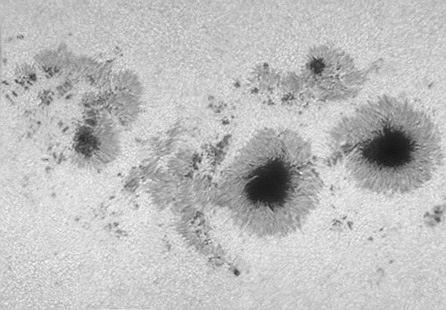 Technical Details

Optics

105mm TMB refractor with 2" AP barlow at f/20 (Canon 10D images)
additionally 2x barlow providing in total f/40 for webcam images

Mount
MK-100 GEM
Camera
Canon 10D and Philips ToUcam 740K
Filters
Astrosolar ND 3.5 filter, Astronomik IR-block and green filter for webcam
Date
July 23, 2004 08:30 UT.
Location
Wildon/Austria
Sky Conditions
clear sky, temperature 24 C
Exposure
Canon 10D: 1/2000 sec at ISO100;
Webcam: 1/1500 sec, 640x480.
Processing
webcam: manual frame preselection; stacking and wavelet processing in Registax 2;
2-part mosaic, other processing in Photoshop; north is up;
Canon 10D: 2-part mosaic, color balance and unsharp mask in Photoshop.