Details in the Butterfly Nebula (IC 1318)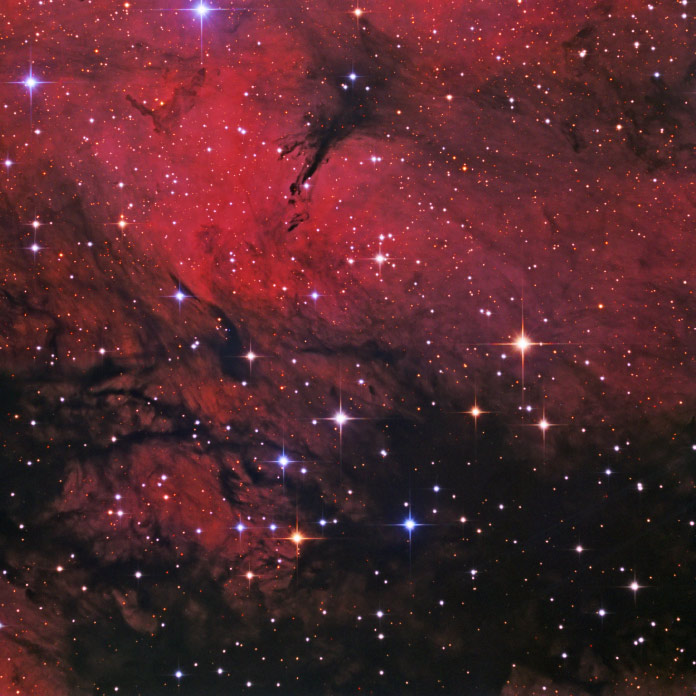 Clic here for 60% size 2448x2440 (1000 kB)
This close-up in RGB color shows a part of the extended nebulosity, designed as IC 1318 east of the mag 2 star gamma-Cygni (Sadr) -following the rays to the outside right of the image. The bisected nebula region in the center of this image is named the Butterfly Nebula because of it's two-winged appearance seperated by a dark nebula.

Find a mosaic of this area in NB color here.
Find a close-up of the central swirl area in H-alpha light here.
Find a wider view of the whole area in H-RGB light here.

North is up.
Technical Details

Optics

16" cassegrain in secondary focus at f/10

Mount
MK-100 GEM
Camera
SBIG STX-16803 at -30C, STX 5-pos filter wheel
Filters
Baader LRGB 65 x 65mm
Date
Sep 13, 2010
Location
Wildon/Austria
Sky Conditions
mag 5.5 sky, temperature 15 C, seeing 1.5-2"
Exposure
L:R:G:B = 40:40:40:60 minutes per frame (20 minute sub-exposures), all 1x1
Programs used
Maxim DL 5
CCDStack
Photoshop CS3